Holiday on Main 2018: The Work of Many Hands

Holiday on Main 2018: The Work of Many Hands
Historic Downtown McCormick's 2018 Holiday on Main events commenced this year on November 30th with the annual Tree Lighting Ceremony. Master of Ceremonies and sponsor of the tree lighting, Dean Domas of Alpine Construction, welcomed the several hundred attendees with a short speech, warm smile and gorgeous Christmas tree at The MACK park. Mayor Roy Smith, County Councilman Byron Thompson and Executive Director of the Chamber of Commerce, Charlotte Tallent, each spoke briefly about community and the significance of the season. Toys for Tots contributors enjoyed hot cocoa from Michelle's Pizza. Michelle's has sponsored the Marine Corp Reserve's Toy Drive for twelve (12) years!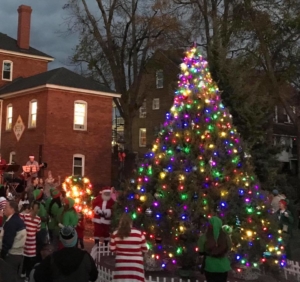 At the tree lighting, the crowd enjoyed performances by Mamie McAbee's Rhythm & Class dance troupe and the music of "Vintage Art Project" band, all of whom voluntarily performed. It was a rocking great time around the Christmas tree with Mike Sartain on bass guitar; Mark Schroeder on lead guitar and backup vocals; George Elmore on drums; Art DuFault on rhythm guitar and lead vocals; Sharon Maish on backup vocals and tambourine; and Carol DuFault on backup vocals and sleigh-bells.
It was an especially enjoyable evening. The MACK went to great lengths to provide a "clean electrical circuit" for the band and tree lighting. Art DuFault said the "audio equipment performed flawlessly" and more than one person commented to him that this year's lighting was a "Hallmark Moment in McCormick!"
Following the entertainment, Santa was delighted to land his sleigh on The MACK roof just in time to light the tree himself! With the help of Heather McNally, Danielle Hutton and all of The MACK kids who were kind enough to be Santa's local elves. After the tree lighting, Santa had a jolly old time touring the Grist Mill and visiting Rich and Diane Lewis at All Aboard Train House.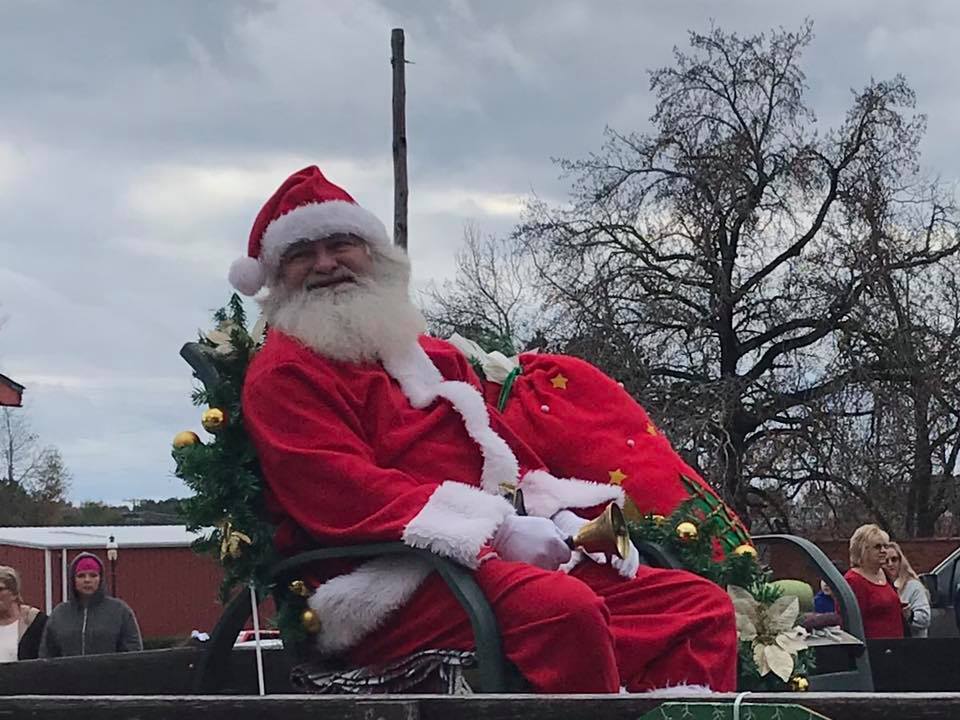 Although the parade was postponed due to inclement weather, Santa returned on Saturday as promised. He and his local elves made Christmas lists for every boy and girl and took photos with kids all day. Santa even made a third trip to McCormick this year on December 15th to be in our rescheduled parade. Thank you, Santa!!
Despite the weather in December, this year's Holiday on Main was a smashing success due mainly to an incredible amount of work and the efforts of many people. We were lucky to have two Art Trots this year with more live music on Friday, December 7th at The MACK and The Red Rooster. The artists' receptions on that night were exceptional, as was the yarn spinning demo at Frames Unlimited: Act II where Mea Stone was happy to share her love of angora wool from her Stony Woods Farm goats. The Karen Banker & Richard Martin exhibit at The MACK was striking with his photography displayed alongside her bold acrylic renditions. If you missed it, the exhibition is up for the remainder of the year.
Many other merchants were open late both Fridays for the Art Trots. The Chamber extends a deep THANK YOU to everyone for your contributions to the success of this year's Holiday on Main Art Trot events.
We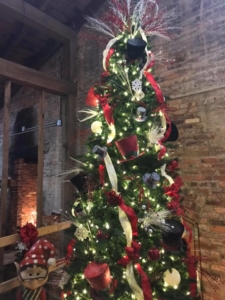 were fortunate this year to have several enchanting holiday tours to celebrate the season. At Dorn Mill Complex, The Grist Mill decor was designed and crafted by Linda Baker, Toni Chandler, Mary Tobin and Karen Torrey to support the McCormick County Historical Commission. "A village of others helped clean and decorate the mill -the designers and their family members, friends, neighbors, and members of the community," said Historical Commission member Tonia Moore. An estimated three thousand (3,000) people toured the Grist MIll over the course of three weekends. Thank you to all who participated in making the Grist Mill a memorable and magical tour worthy of the cover of Southern Living.
The Cotton Gin at Dorn Mill was decorated by the McCormick County Historical Commission (Tonia Moore, Barbara Hinkel, Marian Parnell and George Patterson). Marsha Brown helped by decorating the baskets on the outside of the Cotton Gin.
The Holiday Market at Dorn Mill Complex included over thirty (30) different vendors over the course of two weekends. Additionally, the Festival of Trees at Dorn Mill Complex was decorated by the following civic groups: Clemson Extension McCormick Office, John de la Howe, Lone Cane Chapter NSDAR, McCormick County 4-H, McCormick County Historical Commission and Red Hat Southern City Ladies. Thank you so much to all of the remarkable artists, vendors, bakers, farmers and civic groups who participated in making this year's Holiday Market a wonderful experience for the community!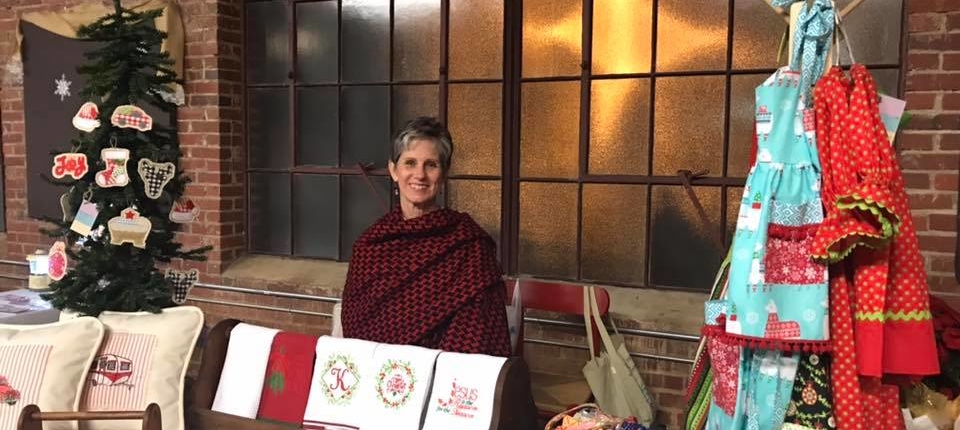 It was also a pleasure to be able to tour The Dorn House on Gold Street this year! The ladies of the McCormick Garden Club hosted over 750 people on December 7th and 8th. They generously opened again on December 15th in support of our (rescheduled) parade. THANK YOU so much to all the members of the Garden Club who cleaned the Dorn House from top to bottom then lovingly decorated each room of this McCormick gem with beautiful holiday themes. Thank you to all who cleaned, decorated, were hostesses during the actual tours, helped plan logistics, arranged the pre-tour party and handled advertising for the tour (also worthy of the cover of Southern Living). The Garden Club "would like to thank many of our spouses for their hard work putting up electrical chords, power washing and building special woodwork to help us achieve such Grandeur!"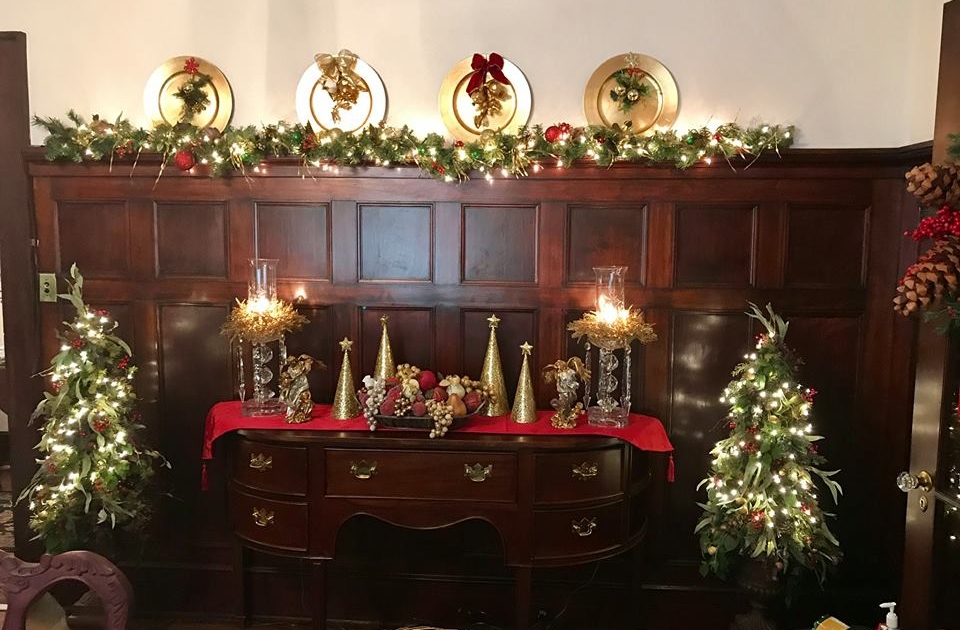 The United Churches of McCormick also hosted a tour of churches this holiday season. And despite torrential downpours on the day of the tour, it was a delightful addition to Holiday on Main events. Thank you to the churches and the organizers of this special event! Judy Langevin, a spokesperson, had this to say: "Many thanks for the generosity of Bethany Missionary Baptist Church, Good Shepherd Catholic Church, Republican United Methodist Church and Shiloh AME Church. Each congregation opened their doors to welcome visitors from the McCormick area. Spending time visiting the churches, meeting new friends, and learning about the Christmas worship and celebrations unique to each church provided a memorable occasion to ponder God among Us."
Usually, we kick off our Holiday on Main season with the tree lighting and parade on the first weekend. This year, the weather did not cooperate; Holiday on Main ended with the parade on December 15th. Congratulations to Plum Branch Baptist Church, winner of 2018 Best in Parade! And congratulations to McCormick County Emergency Medical Services and The SLV Rod & Gun Club who tied for Runner Up. More parade photos are posted on The McCormick County Chamber of Commerce Facebook page.
We would like to thank everyone who participated in this year's parade as well as the following people for logistics and parade management: Crystal Barnes (Chamber Board of Directors – Parade Logistics), Chris Doolittle and the EMS Department (Parade Logistics), Charlotte Tallent (Executive. Director), Faye Neal (Chamber Administration), Mary Covert, Robin Oetgen, Susan and Mark Miller. Thank you also to the judges of this year's parade: Chamber members Ellen Cook, Rita Danna (Helping Hands), Bruce Smith (Savannah Lakes Village Windfall Group, LLC ) and local artist Jeffery Callaham. And finally, THANK YOU to all of our sponsors without whom the parade would not have been possible: Barbara Hinkel with Hinkel Enterprises, Ellen and Chuck Cook, Pam and Pete Shumway, McCormick County Visitor Council, The Community Threads (Fiber Arts MACK Program), Savannah Lakes Village Windfall Group, LLC and The McCormick County Chamber of Commerce.
Holiday on Main is an essential annual series of events that help the merchants and restaurants of our treasured rail town close each year with a strong December. Thank you so much to everyone who organized, participated and attended Holiday on Main. Your collective contributions created a significant experience for our community and visitors this holiday season while positively impacting the economic health of our small downtown businesses. Merry Christmas!
https://mccormickscchamber.org/wp-content/uploads/48393351_2413443675351291_442801077994127360_n.jpg
720
960
Charlotte Tallent
https://mccormickscchamber.org/wp-content/uploads/2017/03/mccormick-chamber-logo-800-pad.png
Charlotte Tallent
2018-12-20 18:11:36
2018-12-20 18:36:35
Holiday on Main 2018: The Work of Many Hands