Western SC Blueway Festival promises to be an unforgettable experience
Intro by Shannon Stewart /
Demo, Exhibition and Music Descriptions by The Blueway Festival Committee
Introduction
Writing about the upcoming Western SC Blueway Festival on June 1st conjures memories of the first small festival I ever attended in Wilkesboro, NC twenty plus years ago. The utter joy of sharing that well kept (at the time) secret with only a few thousand people is inexplicable. Live music in a pristine outdoor setting with a range of outdoor activities is medicine for the soul: a tangible human experience that cannot be replicated by Facebook or Snapchat. That is why the same small festival I remember so fondly had 80,000 attendees at its 30th anniversary! You don't have to worry–yet–about navigating such enormous crowds at the Blueway Festival…at least not this June. Only in its second year, the Blueway is still shrouded in regional charm and off the national radar; however, the concept, setting, and execution of the festival are such that it could easily become something much larger and well known within a few years.
The Blueway Festival is ensconced at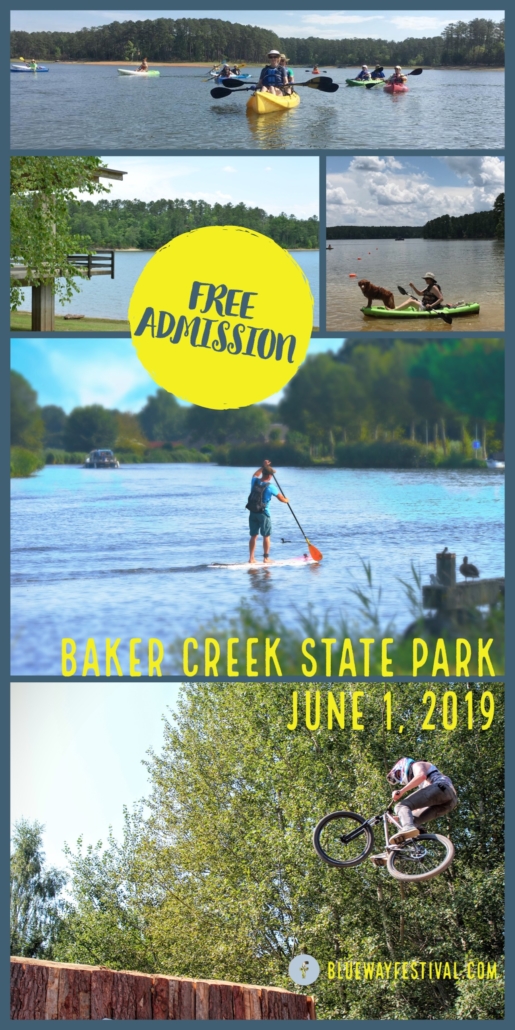 Baker Creek State Park. A hidden gem in its own right, this park is a local treasure with a gorgeous pavilion, miles of hiking trails, campgrounds, and a delightful beach on Lake Thurmond. The cove that houses Baker Creek's pavilion is perfect for anchoring a boat and/ or rafting up with friends to enjoy live music throughout the day. There will be a drop-off area for boaters who want to come ashore with very limited shoreline parking as most of the beach area will be dedicated to swimming, paddleboarding, kayaking and splashing around!
Earth Connection Outfitters & Savannah Rapids Kayak Rental will provide kayaks and paddleboards for participants to enjoy throughout the day. If you wish to bring your own kayak, put in at the adjacent Highway 378 boat ramp and paddle over to the pavilion.
Baker Creek has ample parking. If you drive, shuttles will carry you, your fold-up chairs and your sunbrellas to the lot pick up areas. There are also very nice public restroom facilities if you wish to change in or out of a swimsuit.
A few significant changes from last year include free admission, a more flexible exhibition and demonstration schedule, expanded food offerings, and local craft beers available for sale.
Exhibits and Demonstrations
Educational exhibits and hands-on workshops related to outdoor activities like fishing, hiking, biking, and disc golf will be featured throughout the festival. Additionally, plan to observe or participate in outdoor related competitions including the kayak rodeo, a mountain bike trail ride, horseshoes, corn hole, volleyball. There may even be some friendly competition between the Parks & Rec and civic leaders of Lincoln & McCormick Counties!
This year's demonstration schedule is more robust with several opportunities to see each show. Demos kick off with "the daring acrobatics of the Freestyle Connection team of BMX riders" at 10 a.m. Tom Greene, a festival organizer said: "These guys are amazing! This thrilling show is a popular attraction for all ya all kids! It truly is a great group of guys. They have a good message for the kids as they tell how they followed their dreams to become what they are.
Lucas Croft will be bringing his crew of agility dogs from his Mutts & Monsters team and will be pairing up with the Dahlonega Disc Dogs group to perform 3 shows at the festival. He will be available to let you run your dogs through the drills and will be on hand to offer guidance."
Beginning around 10 a.m., JARRR Wakeschool will present a wakeboarding show with founder, Joel Schrader, one of the best wakeboarders in the Southeastern US. Joel will be performing several wakeboard tricks at the festival, and you won't want to miss this!
Southern Moon Outfitters has also committed to sponsoring a Kayak Fishing Tournament in conjunction with the BlueWay Festival. The CSRA Kayak Bass Assassins will head out from the Baker Creek Ramp early the morning of the festival return to the beach later in the day for their Length In and awards presentations. Proceeds from the tournament benefits Heroes on the Water, an amazing organization helping our veterans in the CSRA. Kevin Fox and his wife Jan–a wealth of information about the sport– are great partners for the festival and plan to have plenty of fishing kayaks available to test ride.
Food and Beverage
A variety of specialty food vendors will be cooking everything from brisket to shrimp tacos and Southern shrimp and grits. Traditional festival fare (hot dogs, snow cones, and fried Oreos) will also be available.
Music
"We are thrilled to have a fantastic lineup of regional artists at the festival!" says Greene. McCormick's Lakeside Jazz Band will perform jazz, blues, and Latin tunes along with many Sinatra tunes beginning at noon. This local treasure will be followed by a dazzling new duo from Columbia, SC– Admiral Radio. These singer/songwriters deliver "a timeless style and classic sound that speaks for itself. In an age where adding mechanized bells and whistles are the norm, Admiral Radio opts for a more natural feel by getting back to the basics of music with heart."
The day will wrap up with a high energy acoustic/ electric music festival featuring The Riot Band from Atlanta. Come enjoy the music and fellowship from the pavilion on the beach or from the comfort of your boat in the cove. These guys have a terrific mix of music that will satisfy everyone's musical (and dancing!) tastes.
So come and enjoy this marvelous regional festival that truly offers something for everyone. Join the ranks of the privileged few who will be able to say "I remember when there were just a few thousand people at the Western SC Blueway Festival!" Visit bluewayfestival.com for a complete schedule and more information regarding the musicians and logistics of the festival.
https://mccormickscchamber.org/wp-content/uploads/BW-Version-2-1.jpg
1080
1080
Charlotte Tallent
https://mccormickscchamber.org/wp-content/uploads/2017/03/mccormick-chamber-logo-800-pad.png
Charlotte Tallent
2019-04-15 14:52:45
2019-07-31 12:51:17
Western SC Blueway Festival promises to be an unforgettable experience