Community Threads Does It Again for HSMC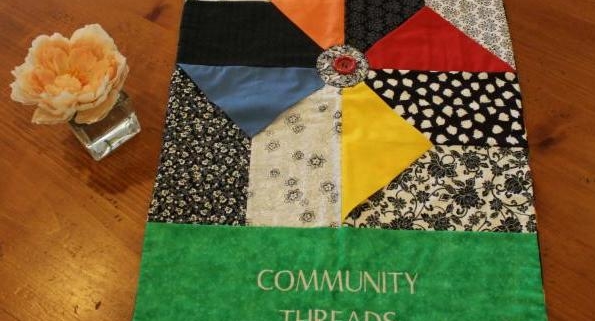 Community Threads is a program of the McCormick Arts Council. It is comprised of women "whose passions include creating art with needle and thread." These women gather together three times each month for fellowship and service.
Community Threads membership includes women from all over McCormick County, Abbeville, Lincolnton and Augusta, Georgia. As a MACK program, the group receives donations of fabric and sewing supplies. In turn, it uses them to teach new members to sew and create service projects such as the tote bags and blankets. 
The group holds open sew sessions three times a month at Hickory Knob State Park. Members work on their own projects, share ideas, teach and enjoy the fellowship of this fiber arts program.
Community Service 
Community Service projects are a separate component of the group.  Members work on these projects individually or on planned project days.
These women then take fabrics and turn them into useful and beautiful creations, which they did this month for the dogs and cats, puppies and kittens of the humane society. Their donations are creative and colorful, showing off their sewing skills.
Materials
Material for soft, fluffy kitten blankets (above) was donated by Tim Shirley, Mount Vernon Mills, Inc, in McCormick.  Kate Tetzel, a Humane Society volunteer and Community Threads member, made the contact with Mr. Shirley and received his generous contribution to this project. CT Coordinator Belinda Ramsey turned the blanket ends into kitten blankets for HSMC.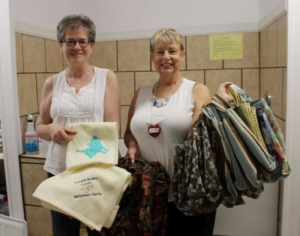 On Wednesday, Program Coordinator Belinda Ramsey with seamstress Linda Crochet, presented the HSMC with 20 cat blankets and 35 adoption bags, all hand cut, sewed, and embellished. The ladies also worked on dog cot mattresses for the Refuge.
What is an adoption bag? This is a small tote bag that is given to each person who adopts a cat or kitten, dog or puppy. It contains adoption paperwork, toys, treats, and one of the hand-crafted blankets.
The adoption bags were made by Linda Crochet and Laura Clegg from home decor fabric donations from McCormick County residents.
Each adoption bag takes upwards of 45 minutes to sew, although Linda admitted to using a bit of an assembly line in her production!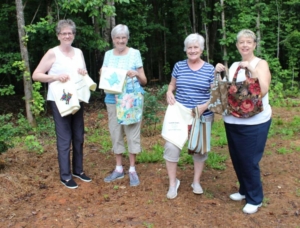 Pictured left to right with examples of the donations: Belinda Ramsey
(Community Threads Coordinator), Chris Wagner (HSMC Cat Coordinator), Lise Kropfeld (HSMC Spay/Neuter), and Linda Crochet (Community Service Coordinator).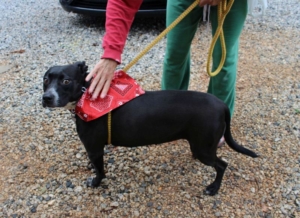 In addition to all the blankets and adoption bags, Belinda is working on a prototype adoption bandanna that will attach with loops to a dog's collar on adoption Saturdays. Above, Ellie gives one a try.
Thank you!
We can't thank these ladies enough for their generous contribution of time and effort. The donations are made possible by their work and by the contribution of materials from community members.
For more information about Community Threads, contact Belinda at quiltingworkshops@gmail.com, or by calling the MACK at 864-852-3216. Linda Crochet is the Community Service Coordinator for Community Threads and can be reached at linda48crochet@gmail.com.  
https://mccormickscchamber.org/wp-content/uploads/Petlink-Quilt-e1533830791180.jpg
269
300
Charlotte Tallent
https://mccormickscchamber.org/wp-content/uploads/2017/03/mccormick-chamber-logo-800-pad.png
Charlotte Tallent
2018-08-09 12:00:07
2018-08-09 12:26:57
Community Threads Does It Again for HSMC